A Christmas Carol
Written by Charles Dickens
Adapted by Richard Orlando
Directed by Angie Higgins + Doll Piccotto
December 4 – 17, 2023
Mondays – Thursdays, Saturdays, and Sundays at 8 PM
Matinees on Saturdays at 2 PM
Montalvo Arts Center (Saratoga, CA)
Tickets: $40-$70
Capacity is limited to 65 theatregoers per performance.
Silicon Valley Shakespeare's annual performance of Charles Dickens' A Christmas Carol, adapted by the late Richard Orlando (Northside Theatre Company founder and Artistic Director), takes audiences back in time with Ebenezer Scrooge as he literally walks down memory lane.
The journey through Ebenezer's past, present, and future will take place at Montalvo Arts Center's 175-acre property. Audiences can expect to travel through the historic Villa, elegant courtyards, and pathways featuring stunning vistas. This immersive and walking production is a unique holiday experience for the entire family. Audience members will walk a distance of approximately 1,000 steps, so you are sure to get your steps in for the day!
An ASL-interpreted performance will take place on Wednesday, December 13th. And a seated performance for those with mobility concerns will take place at 2 PM on Saturday, December 16th.
This production will take place rain or shine! Or is it rain or moonlight? Nevertheless, please note that in the event of rain, the show will still rove to the indoor and covered portions of the grounds on a modified route.
And we are happy to note that SVS' production of A Christmas Carol is once again partnering with Family Giving Tree to provide families in need with gifts this holiday season! Scroll down to learn more about how you can help.
Rated E for Everyone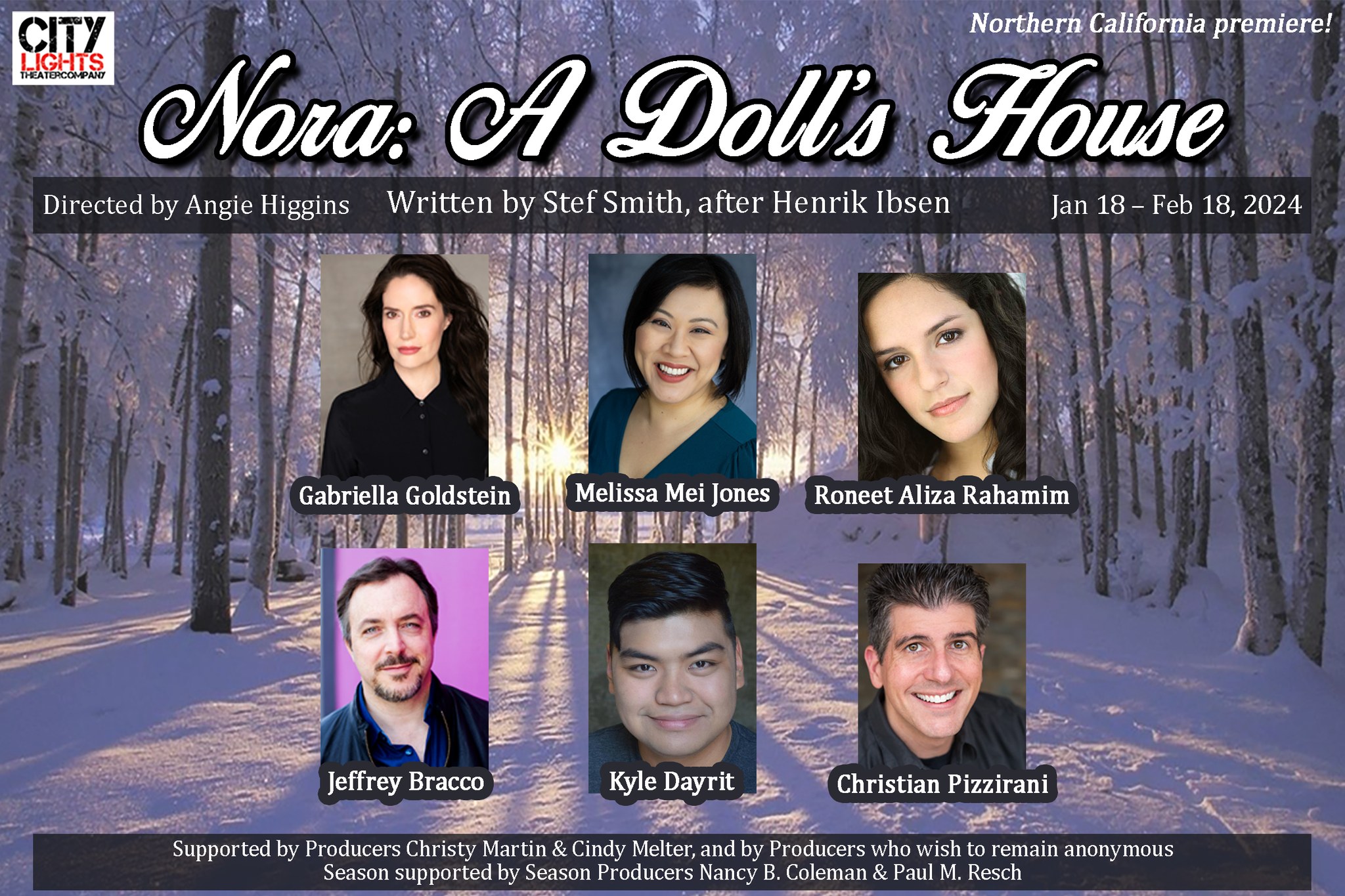 Nora: A Doll's House

Written by:
Stef Smith, after Henrik Ibsen

Directed by Angie Higgins

Jan 18

–

Feb 18, 2024
Northern California premiere!
The more things change, the more they stay the same in this bold new retelling of the classic A Doll's House, which sets the story in 1918, 1968 and 2018. In each time period, Nora is the flawless wife and mother. But she has a secret that threatens to upend this precariously perfect existence. Ibsen challenged gender norms and outraged audiences when A Doll's Housewas first performed in 1879. Today, we look back at the roles that women have been allowed to play during the fight for female suffrage, the swinging sixties, and the modern day, and wonder how far we've really come.
For more information visit: City Light Theater Company