Ms. Cast
By Doll Piccotto
& William Shakespeare
Directed by Angie Higgins & Doll Piccotto
April 24th-25th, 2020
(Friday at 8pm, Saturday at 2pm & 8pm)
"A woman could never play that role!" Me thinks the gentlemen protest too much. The ladies of SVS prove the cynics wrong and celebrate the year of the woman as they take the stage as some of Shakespeare's most iconic male roles proving that they are NOT miscast.
A Statue for Ballybunion (U.S. Premiere)
By Tom EcEnery
Directed by John McCluggage
Postponed due to COVID-19 closures. Stay tuned for re-mount information next season!
Role: Kate
A Statue For Ballybunion is based on the true story of a core group of Ballybunion residents who hatch a cunning plan to unveil the world's first statue to the leader of the free world – then U.S. president, William Jefferson Clinton.
However, well-publicized events in the Oval Office with a certain intern put his visit to "The Kingdom of Kerry" in jeopardy. As if that were not enough, something unexpected has happened to the statue.
How will this affect events in Ballybunion as it awaits immortality on the world stage?
As Bill Clinton himself said, "You just have to keep swinging and know it will all even out!"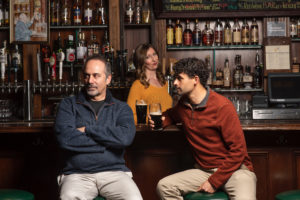 For more information visit: 3 Below Theaters
Photo credit: Daniel Garcia & Content Magazine