Sense and Sensibility
By
Kate Hamill,
Based on the novel by Jane Austen
Directed by Angie Higgins
August 5 – September 4, 2022
Select Thursdays – Sundays at 7:00pm (see calendar)
playing in rep with Measure for Measure
A playful new adaptation of Jane Austen's beloved novel follows the fortunes (and misfortunes) of the Dashwood sisters—sensible Elinor and sensitive Marianne—after their father's sudden death leaves them financially destitute and socially vulnerable. Set in gossipy late 18th-century England, with a fresh female voice, the play is full of humor, emotional depth, and bold theatricality. Sense and Sensibility examines our reactions, both reasonable and ridiculous, to societal pressures. When reputation is everything, do you make the choice to follow your heart?
"…an unconditional delight…invigorating…a bouncy, jaunty take on Austen…remains remarkably true to the values and priorities of its source. The classic Austen preoccupations with real estate, income, class, reputation and equilibrium in life are all rendered brightly and legibly here." —New York Times
"…so full of galloping comic vitality as to suggest a bunch of stupendously clever kids playing dress-up in the nursery. It's by far the smartest Jane Austen adaptation to come along since Amy Heckerling's Clueless, and at least as much fun." —Wall Street Journal
A Statue for Ballybunion (U.S. Premiere)
By Tom EcEnery
Directed by John McCluggage
Coming March 2023
Role: Kate
A Statue For Ballybunion is based on the true story of a core group of Ballybunion residents who hatch a cunning plan to unveil the world's first statue to the leader of the free world – then U.S. president, William Jefferson Clinton.
However, well-publicized events in the Oval Office with a certain intern put his visit to "The Kingdom of Kerry" in jeopardy. As if that were not enough, something unexpected has happened to the statue.
How will this affect events in Ballybunion as it awaits immortality on the world stage?
As Bill Clinton himself said, "You just have to keep swinging and know it will all even out!"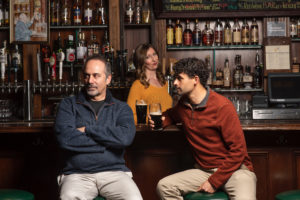 For more information visit: 3 Below Theaters
Photo credit: Daniel Garcia & Content Magazine