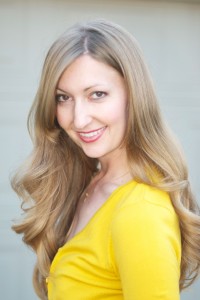 Angie graduated Summa Cum Laude from San Jose State University with a BA in Creative Arts with an emphasis in Theatre and went on to receive an Interdisciplinary MA in "Theatre Arts Education" from SJSU as well.
During her time as a graduate student, Angie taught Beginning Acting to undergraduates under the guidance of Amy Glazer and also trained as a teacher leader with BayCAP (California Arts Project) under the direction of Kathie Kratochvil. Upon completing the training program, Angie went on to teach "California Theatre Arts Standards" content to other teachers at one of BayCAP's professional development PUAD programs (Pathway to Understand Arts Disciplines), as well as a Master's class for a unit in Theatre Arts.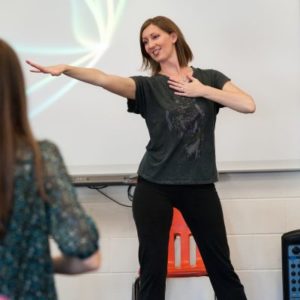 Angie had the privilege of creating theatre arts program content and teaching many Drama and Dance classes at numerous schools around the South Bay and Peninsula as an Artist in residence for the children's theatre company CLAP Arts (Creative Learning and Performing Arts). There she was able to be a part of grant funded programs to provide enrichment to underprivileged schools, as well as a number of community centers, and private schools, such as Hausner Day School where she taught the Drama elective course for 3 years. She also taught part-time for many years at Milpitas Christian School, where she directed and choreographed fifteen musicals.
She now teaches Theatre Arts and Dance full time at Keys School in Palo Alto. Keys School strongly believes in the value of Arts education. As such, Angie has the privilege of directing a class play with each grade, 1st-8th as well as an afterschool musical for 5th-8th graders. Over the years she has developed a performance based program at Keys that introduces students to different styles of theatre such as American Melodrama, Musical Theatre, Classical Works, and Absurdist Comedy. A lover of film as well, Angie has included Film Production as part of her Performing Arts Program that range from projects revolving around student written and produced works, silent film, and mockumentary film. She strives for her theatre program to cultivate collaboration, foster creativity, and build confidence.
Having the attention of an audience is a gift. It is a chance to help them forget their worries, make them laugh, make them cry, transport them to a world of wonder, make them reflect on life, or even help them think of something in a new way. The collaboration I experience in every production is a magical melding of minds, creativity, and hard work. Merging my passion for Theatre and my strong desire to help that shy child that I used to be come out of their shell has made me who I am today.
– Angie Higgins
Education: B.A. in Creative Art, minor in Drama from San Jose State University; M.A. in Theatre Arts Education from San Jose State University